Main Piece:
SG has been to Mardi Gras almost every year since she was a little kid. Decorated plastic cups are a typical throw in every Mardi Gras Parade. Parades, known as Krewes to the locals, each have a unique name and theme to them. Riders in each parade have "throws", which are items riders throw off of floats. These commonly include beads and doubloons, but what is solemnly talked about is cups. Cups are a collectible item during Mardi Gras as they have more value than most other throws. Not only can you keep it as a memorate of a parade, but you can use it for years to come. Families collect these and use them as normal drinking vessels in their homes and lives. Go in any cabinet and next to the glass cups you will find various Mardi Gras cups themed to each parade.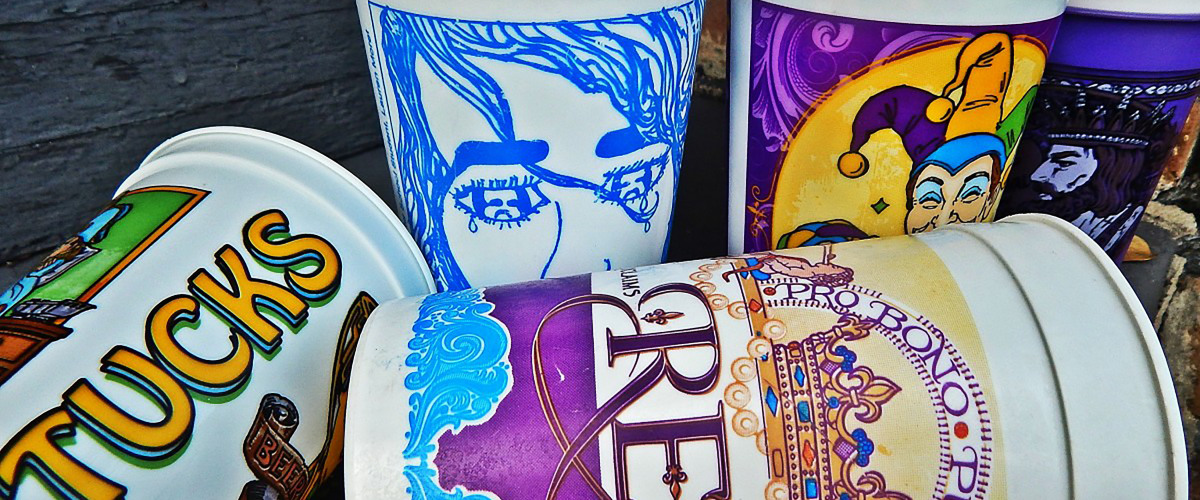 Context:
SG is my mother and has been to Mardi Gras with kids since I was born. She is from New Orleans and attends every year. This was taken during a conversation with her in our backyard while reminiscing Mardi Gras. She still collects cups and send me them each year.
Thoughts:
As a New Orleanian and a avid fan of Mardi Gras, as I have been many times before, I did not realize that this was not much of a practice outside of New Orleans, collecting cups to use throughout the years. For instance, after my first year at USC, I missed Mardi Gras for the first time in my life. As a response I got my parents to ship me a King Cake and some decorated cups. In the house I was living in, I used them frequently, and people always commented on the designs on the cups calling them unique. I was so used to using the cups that I never took a moment to think about the designs. Each design reflects the idea of that parade. Krewe D'etat, a parade devoted to a satirical take on the previous year, would have cups that mock events from the last year. Krewe of Muses, an all female parade, would have cups with feminine symbols such as the iconic red lips symbol of the krewe. Each design is unique and can only be gotten if one attended that parade in that year.